View Previous 5 Responses...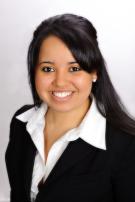 "I thought this was a great event. I did enjoy meeting a lot of people and of course it was good to make sure we were on track and stay efficient. I will definitely be back another time."



- Sara-Marie Pons
- Financial Planner
---

"BlitzTime has been a great tool, because it allows you to put the 'Social' back into social networking and social media. It's so easy to sit in your office and have the most conversations you've had all day. Having realtime conversations with people is absolutely invaluable and I'd love to see this keep going."



- Andrew Rohman
- Neptune Web
---
"BlitzTime was a great event. This was a lot of fun, fast. It keeps you on your toes and makes sure you listen to what the other person is saying."



- Michael Manning
- MSP For IT Services
---

"BlitzTime has been a great tool for meeting a bunch of people really quickly. I can sit here behind my desk and have great conversations with a bunch of people without any downtime. It's been a great tool for meeting people and determining whether I can help them or they can help me."



- Peter Caputa
- Online Marketing, HubSpot
---

"This is really great. I'm an avid networker, I'm going to events every week. I really like what you have here and I'm looking forward to hosting my own events here."



- Tony Mack
- One Source Graphics
---
View Next 5 Responses...